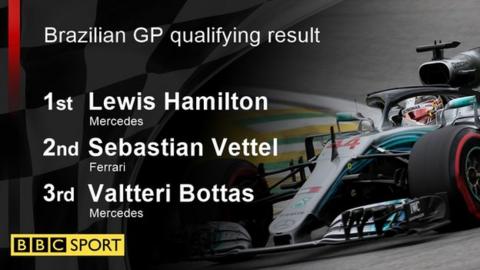 World champion Lewis Hamilton beat Ferrari's Sebastian Vettel to pole position at the Brazilian Grand Prix.
Hamilton was 0.093 seconds clear of his former title rival at the end of a tight and tense battle, with their team-mates Valtteri Bottas and Kimi Raikkonen next.
Vettel, though, faces an investigation for an infraction at the weigh-bridge, where he failed to follow stewards' instructions.
The Red Bulls of Max Verstappen and Daniel Ricciardo were fifth and sixth, but the Australian has a five-place penalty.
Hamilton pips favourites Ferrari
Ferrari started qualifying looking to have an edge over Mercedes, but Hamilton prevailed in a difficult session that was affected by light rain at various points during the hour, even if the track was dry at the key moments.
Vettel had been second quickest to Bottas by just 0.049secs in second qualifying despite using the harder 'soft' tyre in search of a strategic advantage in the race.
But when it mattered Hamilton just edged him out for his 10th pole of the season.
Vettel's frustration was clear when told on the radio he had missed pole. "Aargh," he said.
Vettel said his weigh bridge incident had happened because he was eager to get back to the pits. He had already done his fastest lap but rain was threatening and he wanted to go out again – and being weighed cost time that might have prevented that.
In addition to his other misdemeanours, he also drove at a steward who was standing in his way preventing him going on the scales until they were ready.
He said: "They shouldn't call us. When the conditions are changing like that, it is unfair. I wanted them to hurry up."
A parting gift for long-suffering Ericsson
Behind the big three, Swede Marcus Ericsson took a career-best seventh place – which will become sixth on the grid with Ricciardo's penalty for using too many engine parts – two races before what is likely the end of his F1 career.
Ericsson has been dropped by Sauber for next season and is to race in Indycars in the US, although he will remain the team's reserve driver.
He beat team-mate Charles Leclerc, who is moving to Ferrari to partner Vettel next season in a swap with Raikkonen, by 0.196secs.
Haas driver Romain Grosjean was ninth, with Toro Rosso's Pierre Gasly 10th, benefiting from the latest upgraded Honda engine.
Fernando Alonso's F1 career continues to fade out with a fizzle, McLaren having the slowest car in Brazil and the Spaniard able to put it only 18th.
With team-mate Stoffel Vandoorne last of all, the only car Alonso could beat was the Williams of Lance Stroll.
What they said
"That was a tough qualifying session," Hamilton said. "Ferrari have been incredibly quick this weekend.
"We have done a lot of work to make sure the car is in the best way we could. The last lap wasn't that great so I didn't know that I had pole and I was so grateful when I heard I did.
"I lost it in Turn Eight," said Vettel. "I tried. The first sector was so good."
Choose your top three drivers from the list below